If you know the story of a Ranger that we do not have, you are sincerely invited to contribute that story.
Your Responsibility & Your Agreement
The biography that you submit will be your voluntary contribution to this memorial site, and all of the information that you contribute will become part of this permanent memorial site.
We expect you to be as accurate and respectful as possible regarding the information that you provide.
Authors of the biographies (that's YOU) remain anonymous on this site, unless you specifically make contact with someone. Be aware and alert, this is the Internet!
---

Here are the steps to a successfully published biography:
1. Do your homework, gather the required info, be thorough.
We hope to publish, with each biography:
full name
rank
dob
date of casualty
hometown
several paragraphs of personal and military history
photographs
awards
unit assignments
...of the departed Ranger.
2. Register on the site, membership is free - Register HERE now !
Once registered, you will get a Welcome Email from the site ( can't find it? LOOK In your spam folder ! )
After you register, make sure that you are logged in to the site.
In the Biographies menu, go to the _-* Add a Biography *-_ menu item
3. Submit your Ranger's Biography
Some fields are required
Please provide as much information, as many photos and Youtube video as you can find
NOTE: Currently, 20 photos and 1 youtube vid is the default.. IF YOU HAVE MORE, you contact us, we can handle that.
Save your work OFTEN, it's the internet !
4. Wait for the "Published" OR the "More Info Requested" email
You may receive follow-up messages that ask you for more specific info. We may put you in touch with your Ranger's fellow soldiers, to work together in completing the biographical info. This is a colaborative effort, go easy on these people, they have memories and feelings also.
THANK YOU for your willingness to share your Ranger's story.
We appreciate his sacrifice, and the devotion of every family member and associate as well.
May God Bless our Rangers, each and every one!
---
Ranger Status Requirements
The departed subject of the biography that you submit must have been
Operational member of Ranger unit in WWII, Korea, or Vietnam.
Assigned to the modern 1/75, 2/75, 3/75, the Ranger Regiment or RSTB.
OR
Graduated from Ranger School
THIS is the page that specifies the SOP for this requirement.
Please read it and ask us any questions that you need to, we want everyone to undertand the requirements.
The biographies on this site honor Rangers. These are the requirements.
We are glad to consider every situation, but these are requirements so that we can honor our Brothers. Thanks for your understanding.
---
HELP Files for Biography Authors
We are building a Manual to help you create a proper Biography of your Airborne Ranger in the Sky.
Here is a flow chart that might help you to undertand the steps involved.
CLICK on this image for LARGER VIEW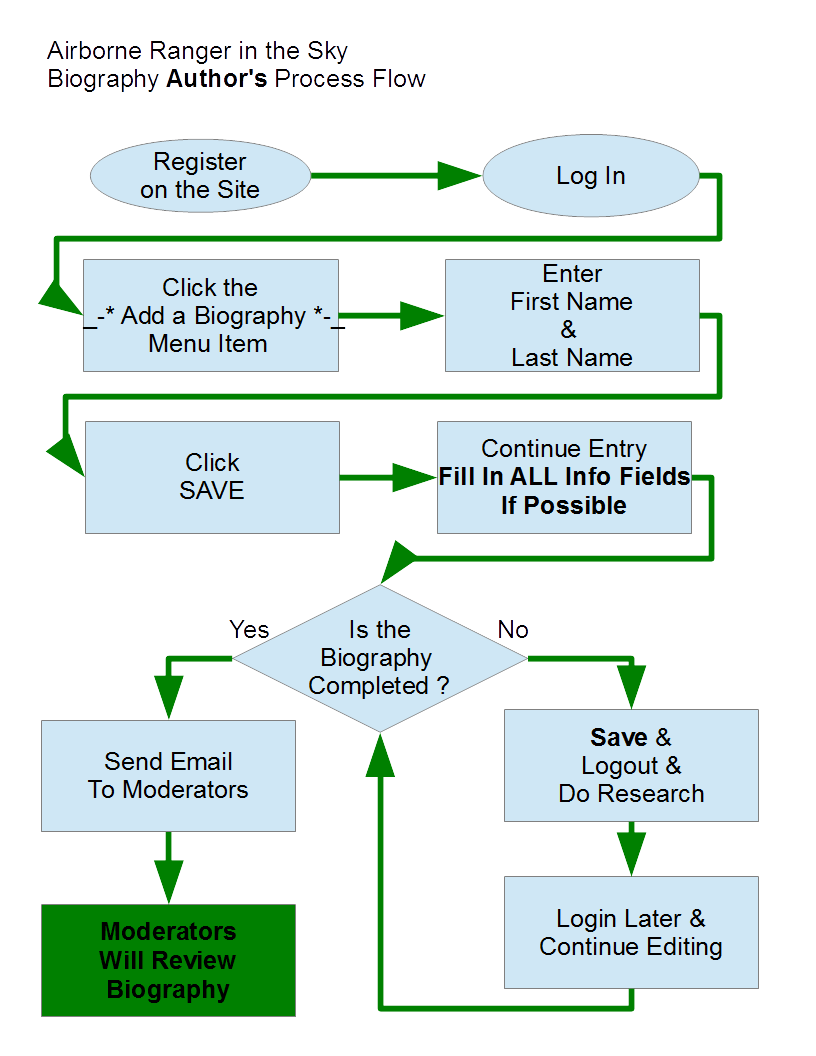 Click HERE to download this flow chart as a .PDF (so that you can print it !)
---